A Look at English Prepositions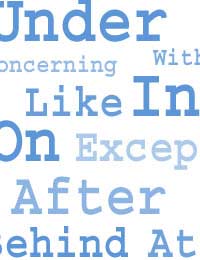 An English preposition is a word that usually appears in front of a pronoun or a noun. The preposition will express a relation with another word or an element within a sentence. Also, prepositions will link elements of a sentence together.
He was beside himself
He left before dinner
Rules When Using English Prepositions
There is one rule that needs to be adhered to when using English prepositions; and, unlike many other grammar rules within the English language, this one has absolutely no exceptions.
The rule is: a preposition can never be followed by an English verb, but has to be followed by a noun, pronoun, proper noun, gerund or a noun group.
Nouns – dog, cat, love, money
Proper Nouns – Sarah, Richard, England, France
Pronouns – us, you, her, him
Gerund – swimming
Noun Group – my first job
If a preposition has to be followed by a verb, it must be changed into a gerund or a verb in noun form, which means adding '–ing' as a suffix.
Roughly, there are around 150 prepositions in English. This may seem like a small number when you compare to the amount of verbs and nouns in English; however, prepositions play a very important part in the English language.
We use individual prepositions more often than other, individual words in the English language. This is because prepositions help us tell the listeners and readers specific information.
Prepositions Of Place
Examples of prepositions that describe a place are: at, on and in. As a general rule, the preposition 'at' is used to describe an exact point; the preposition 'in' describes an enclosed space; and, the preposition 'on' describes a surface.
English Preposition 'At'
At the entrance
At the shops
At the end of the road
At the door
At the corner
English Preposition 'In'
In the bedroom
In the garden
In England
In Devon
In my pocket
In my car
In the bus
In a building
English Preposition 'On'
On the carpet
On the side
On the wall
On the menu
On a table
On the floor
The prepositions 'of', 'to' and 'in' are the most commonly used words in the English language. That is because they are simple ways of giving specific information to the reader or the listener. Some prepositions have more than one meaning.
Prepositions Of Time
The prepositions that describe time are: 'in', 'at' and 'on'.
The preposition 'at' is used to show an exact time; the preposition 'in' is used to show months, centuries, years and extended periods; and, the English preposition 'on' is used to depict days and other dates.
English Preposition 'In'
In the next Century
In the next ten years
In the winter
In the summer
In December
English Preposition 'At'
At 2am
At 3 o'clock
At suppertime
At bedtime
English Preposition 'On'
On her birthday
On our anniversary
On Christmas Eve
On Wednesday
Here is a list of one-word prepositions that are commonly used in the English language.
Aboard
Along
Across
At
As
After
Behind
Before
Concerning
Except
Like
Near
Outside
Past
Regarding
Underneath
Under
With
Without
Within
HOW TO LEARN ENGLISH IS FOR SALE.
This website is for sale [more info].
You might also like...
I hope to learn very good English language
baraka
- 5-Jul-11 @ 11:00 PM