Games To Help Teach a Child a Second Language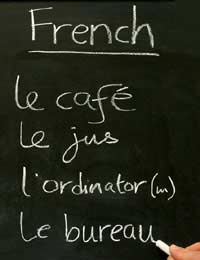 It's official! Children are amazingly versatile in the way they learn and process information. Children, when taught correctly, can learn a second, and sometimes a third, language easily.
Adults need years of proper teaching methods and classes to become fluent in another language, but children under ten just seem to 'soak' up the information on hand.
When To Start Teaching A Second Language
The earlier you can expose your child to a second language, the better. As children learn through play, a second language can easily be brought into that area of their lives.
There are lots of games that you can play with your child to enable them to learn a new language. You can even start teaching your child another language before they have even reached their first birthday. Amazingly, babies have the ability to distinguish their first language (which they can't even speak yet) with a second language.
What Benefits Can My Child Get From Learning A Second Language?
If you still need convincing about the benefits from teaching your child a second language, read on. If your child can have access to a new language early enough, and practice it as they get older, they will be in a powerful position in any multi cultural society. Your child will also have a better grasp of their first language and be truly fluent.
For some families, it is very easy to introduce another language to their child. One or both parents may already know more than one language. However, this isn't the case in other families. Fortunately, there are lots of games that can help!
How Quickly Will My Child Learn A New Language?
How quickly you want your child to learn a second or third language will depend on how much you expose them to the languages. Frequent immersion into another language will mean your child will remember more.
Children learn a lot from imitation and repetition; so, if you continue to play the language games and watch the language programs, your child will soon pick up a second language.
Games And Activities To Learn A Second Language
Here are a few games and activities to help your child learn a second language easily.
Using Computer Games – Depending on the age of your child, there are lots of software programs that you can use. Language software developed for children will be full of games and fun activities. There are even software packages that will sit idly on your computer until your baby bashes on the keys.
Specialty DVD/CDs – There are many language DVDs and CDs that are developed especially for children. With a combination of music, pictures and language, a child can be learning a new language and having fun at the same time.
Searching on the Internet – There are lots of fun games available on the Internet for you and your child to play together. Many popular character websites are available in many different languages. So for a change, why not look and play on the games in another language.
Talking games and toys – There are many television programmes that are focused on teaching children a second language. These programmes also have toys that do the same thing. Also, you can find other, more traditional games and toys in other languages for your child to enjoy.
Listening to music – Music is a fantastic learning tool for any child. You can find many children's CDs and music tapes in other languages. You should be able to find traditional nursery rhymes or popular songs translated into other languages. This way your child should recognise the tune, but will learn a new language.
Learning a second, or a third, language doesn't have to be confusing for your child, nor does it have to be difficult. Children have a wonderful way of being able to soak up new information like a sponge soaks up water. You will be amazed at how quickly your child will pick up other languages!
You might also like...