Popular Methods That Help Your Child To Spell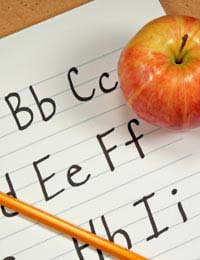 When children start school, they will start to learn how to sound out and spell words. If you are helping your child learn to spell English at home, there are a few ways you can do this.
Here we will look at how children generally learn to spell and how you can implement a system at home.
Your child will need to be able to notice the key facts that tell them how the word is spelt. To do this, the child will need to know the meaning of the word they are spelling. They will also need to know the context in which they are using that particular word.
Spelling words, when reading or when writing them down, it is easier to do when the word is split into chunks. For example, if your child is spelling the word 'looking' – It is easier to do when split into two words: 'look' and 'ing'.
Strange Spellings
As the English language is broadly phonetic, alternative spellings can sometimes cause a problem for children. Some words have silent letters, double letters that sound like one and so on.
Then there are the words that break all the rules and can cause confusion when helping children learn to spell - words like yacht fall into this category! Take your time with your child when they come across strange words for the first time. With a little patience and praise, your child will be spelling accurately in no time!
Spelling Similar Words
When you come across a word that has the same sound but different spellings, you can do an exercise which helps your child distinguish which word to use.
Wait or Weight? – When faced with these words, ask your child to describe what they are writing. If you can teach your child about what the words mean, then they will be able to tell you the right word to use.
Their or there? – Again, teaching your child what the words actually mean, will make it easier for your child to be able to spell the correct version.
Using Image Association
Another great way to help your child remember how to spell certain words, especially those that are similar, is to allow your child to associate those words with something. It doesn't matter if these are real associations or made up ones, the important thing is that it conjures up an image for your child.
Flash cards with pictures on one side and the word on the other are fantastic for helping your child to associate words with pictures. Image association is a very strong tool, and can help children of any ability to recognise words and spellings.
Providing Enthusiasm And Praise
Children can become bored when learning to spell, unless you make it more fun. Make games that you play together, or buy versions of popular word games adapted for children. If your child is having fun, they may not even notice they are learning vital information!
Remember to help your child practise their spelling as often as you can. Make sure you have plenty of time to talk through the meanings of the different words, and make sure you give them plenty of praise and encouragement along the way.
You might also like...
First of all, congratulations great site, secondly added your site on my favorite ones, keep up doing a great job.
Damiao Carlos
- 13-Apr-11 @ 12:59 AM