How Reading Can Improve A Child's Language Skills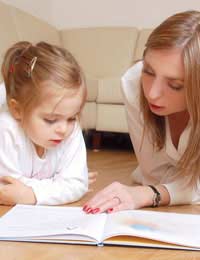 In the first few years of a child's life they learn an amazing amount of skills. From sitting up to walking, and from babbling to speaking fluently, a child can take in a wealth of knowledge. Something that is nothing short of miraculous is that a child can learn a first language almost from imitation alone.
If nurtured early enough, children also have the knack of learning a second language just as easily as their first. This is something an adult cannot do without actual lessons and instruction.
Starting Early
One of the best ways to encourage a child's language skills is to read to them from a very early age. There is no reason why you can't start reading to your baby when it is a newborn. In fact, why not start reading to your baby before it is even born. When you read to your baby, no matter how young they are, you are stimulating their senses. Not only is it a great way to bond with your baby, it is also teaching them a number of skills that will last a lifetime.
Here are some of the benefits of reading to your child from an early age:
Teaches the ability to communicate with you and other people.
Teaches an association with numbers, letters, sounds and words.
Builds important listening skills, which allow the baby to later repeat sounds and words.
Allows the memory to develop and widens their vocabulary.
Helps them to understand the complexity of the English language earlier.
Gives your child a lifelong love for books.
Reinforced Reading
By the time your baby is one, it will have learnt all of the basic sounds that form many words in the English language. Reading to your baby from a very young age will only reinforce these sounds. In the long run, it will make it easier for your child to understand and speak a wider vocabulary.
As your children get older, you will have to introduce new and more challenging books to read. Reading books that are aimed at older audiences are great for introducing grammar and spelling. However, anyone who is a parent of a child over 5 knows that it isn't always easy to get them excited about reading. This could be because it is a formality of school to read and there is just so much for them to fit in during the day!
Here are a few ways that you can help your child learn to love reading, and therefore increase and polish their language skills:
When you read with your child or they read to you, make it as interactive and expressive as possible. Act out the speaking parts together and ask them what they think of different aspects of the book.
If you come across difficult words, why not invest in a high quality picture dictionary. This helps your child to explore the language. You could even make up games to find the most interesting word, longest word or even the strangest word.
Join your local library and make frequent visits. Many libraries have special activities and themes every week/month that you can go to.
Take note of any special activities or interests that your child has that can be followed up with reading. For example, if your child is a huge fan of football, find them football themed books. If your child loves animals, look for animal books to keep them interested.
Reading is so beneficial to children that there is no reason not to start early. It can be fun for both of you and helps your child to speak, read and write much earlier.
You might also like...