Why Body Language Is Important when Learning English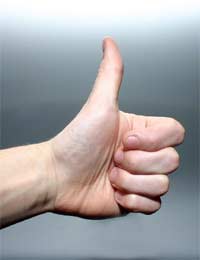 Learning English as a second language isn't just about learning to speak the words. You see, we don't just speak with words; we also use forms of non verbal communication. It is more commonly known as body language, and it is a universal language.
What Is Body Language?
Body language includes our facial expressions as we speak, our arm movements, hand gestures, how we move our body and how we use our voice. In English, and other languages, we can show our emotions, our feelings, hopes, dreams, wishes and attitudes without a word ever passing our lips.
As a lot of communication is actually non verbal, it is vital that you don't just learn to speak the words, but you also learn how to show it with your body. The most important thing is to stay natural. Forced body language will look strange, but natural movements and expressions will convey your message.
If you need to put across a happy, positive message, your body language should naturally follow the words you are saying. If you need to convey a sad, unhappy message your body should again be able to follow the spoken words. Etiquette in body language is very important to making sure people are comfortable around you.
Hand Gestures
Our hand gestures are very important when we are speaking. Look at anyone while they speak their first language. They are probably using hand gestures as they speak. Hand gestures help us to communicate the message being spoken. Look at the following ways we can use our hands and fingers for communication:
A dramatic small or wide movement can show the size of something.
Make a fist to show anger.
Point and move your finger to make an accusation.
To welcome someone, you can hold out your hands with the palms pointing to the sky.
You can also welcome someone by showing them a chair to sit down or where to go.
So as you can see, hand gestures can convey a large variety of messages. Be careful when in different countries, as one hand gesture meaning a welcome may mean something else.
Facial Expressions
Facial expressions are very important when communicating with others. More often than not, people will look at your face as you talk. So, your facial expressions can make the listener aware of your feelings and your message.
When speaking English, smiling as you talk is a good way to show you are pleased. When listening to other people speaking English, it is good etiquette to smile or nod along with the conversation. This shows you understand what is being said. If you don't understand, a shrug of the shoulders and a confused facial expression can let them know the problem.
Keeping eye contact with the person you are talking, or listening to, is very important. It's just being polite.
Body Language
Your actual body position is very important when speaking to someone in English. It is thought to be polite to not stand too close to someone, and to keep a friendly distance. Unless they invite you to come closer or circumstances dictate it, keep a little distance as you talk.
However, standing a little bit closer, or leaning in to who is speaking can be a sign of how intently you are listening to them. Having your arms or legs crossed when speaking to someone is generally thought to be a protective measure. If you would like to show you are open, keep your arms at your side or on your knee if you are sat down.
Body language is one language we can all understand. That is why it is vital you know the basic rules and regulations. You will learn a lot from body language by observing people in your own country and in foreign countries.
You might also like...