English Spelling and Grammar Activities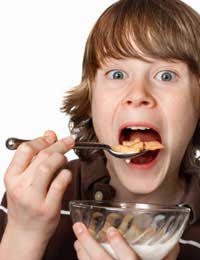 English grammar and spelling is very important for good communication and job prospects in the future. Whether you are an English teacher, a parent or learning English as a second language; these English spelling and grammar activities will help you learn, have fun and remember.
Activities For Adjectives And Adverbs
This activity is a lot of fun – it promotes creativity, thinking of describing words and adding them into the right place.
If you are teaching a class, split them up into smaller groups of 2 or 3 people. Give each of those groups a product that they have to sell. To make the activity more appealing, you can use visual aids.
So, for example, you can give one group breakfast cereal, one group a car and so on.
Let's look at breakfast cereal as an example:
Give the group a box of cereal with the brand covered up. You want the box to be as plain as possible as they are going to try and sell the cereal to you using adjectives and adverbs.
Give the group a number of adjectives that can go before the word flakes. For example, lovely, silly, crunchy, stinky, etc. The group then have to decide which adjective would be better to sell the cereal. The correct adjective here would be 'crunchy'.
Once they have done that, come up with a phrase that the students can use a product line. You could use "Eat them (put the adverb here)". Give them a few options for adverbs such as quickly, happily, daily, revoltingly, etc.
Once the students have finished, they can then present their idea to the class and you can introduce the topics of adjectives and adverbs with the students already understanding what they are, and what they do in the English language.
English Spelling Activity
This particular activity is good for spelling and introducing the topic of suffixes and prefixes into a classroom. This activity can also be done at home, maybe with a friend or by yourself.
Take a few root words that can be made into other words by adding suffixes and prefixes. You can write these root words onto cardboard or onto the blackboard.
Then, do the same thing with a few prefixes and suffixes.
Mix the card up and put them into relevant piles. Then, split the class into smaller groups.
Get the students to see how many words they can make by adding prefixes and suffixes to the root words you have given them.
So, as an example, you can give one group the root word 'marine'. Then give them different prefixes such as 'sub', 'un', 'de' and so on. They have to find the correct prefix to make a new word.
Depending on the level of the class you are teaching, you may want to provide visual aids to help them find the correct prefix and suffix.
Language Structure Activity
This is a great activity for introducing sentence structure into a classroom. You can do it in smaller groups and give them separate activities, or you could do it as a classroom on the blackboard.
On the blackboard, or on an activity sheet if doing it in smaller groups, write a sentence leaving out a conjunction. You could use the sentence: 'I wanted to go to the supermarket in the car (conjunction here) the car was out of petrol.'
Write a few different conjunctions on the blackboard also, such as 'if', 'but', 'and', 'therefore', etc.
Then ask the students to add the correct conjunction (joining word) to the sentence.
Once the students have found the correct conjunction, you can tell them why it fits well into the sentence, and also what the conjunction means. If using the example above, you can tell them that the word 'but' fits in well into this sentence as it means 'contrary to' and 'unlike'.
There are many English spelling and grammar activities that you can easily implement in any classroom. Remember to make the activities for the level of understanding otherwise the students will not be able to have fun while they learn.
You might also like...