Learn English With Synthetic Phonics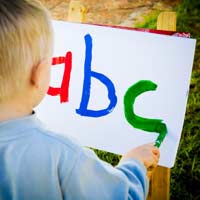 Phonics is a very popular method of teaching children and adults how to read. Using synthetic phonics is the simple process of blending the component sounds of a word, which then goes on to produce the entire word.
Look at these examples of using synthetic phonics for spelling out words – see if you can make the sounds rather than just reading the word.
Fog / f – o – g
Cat /c – a – t
Chess / ch – e – ss
Shed / Sh – e – d
Hill / H – i – ll
Can you see how the sounds that you make for the letters actually spell out the word? This is what is known as synthetic phonics.
Research has shown that children, who struggled with reading, were able to read two years above their actual age when they were taught for two weeks intensively using synthetic phonics. Of course, there are still those that do not like teaching synthetic phonics - as it actually discourages learning the alphabet until the children fully understand synthetic phonics.
Other critics also think that while synthetic phonics helps children to read, it may not help them actually understand what they are reading. With all this said, there are many activities you can do at home using synthetic phonics.
Simple Activities at Home
If you are a parent, and you would like to help boost your child's reading and vocabulary skills, there are many activities you can do at home. (All of these activities could also be implemented in the classroom with ease.)
Here are just a few of the great, fun and simple activities that you can participate in together.
Phonic I-Spy
You can play I-spy anywhere with your child, be it at home, in the park, on the way to school, in the car or in the garden. Use the sound of the letter, or letters, when you ask your child to find something instead of the actual letter. Make sure you encourage your child to do the same when asking you to find something.
Edible Letters
You can really engage your child in learning their phonetic alphabet by letting them help you make them! You can bake letter biscuits and ask your child to sound out the letter while you ice them or eat them!
Posters Of the Phonemes
After you introduce a new a new sound, you and your child can work together to create a poster of that sound. You can make it as colourful, as large or small, or as adventurous as you like.
You and your child can work together to find things that to add to the poster that remind you of the sound you have just been working on. This could include words that include the sounds, cut out pictures from magazines or catalogues, pictures the child has drawn, and so on.
Your child will feel proud that they have created something that you can display in the home or the classroom. Your child will also have something great that they can refer back to if they need it when going over their phonics training.
Phonic Fishing
This game is great for learning and introducing new sounds and words to the children playing it. Not only that, it's also great fun!
Cut pieces of cardboard into the shape of a fish: then, write phonetic sounds and new words onto the cut out fishes. Use a blue piece of card or large piece of blue paper for the water. Attach a paper clip to each fish and lay them over the 'water'.
Then, you will need to attach a magnet to the end of a stick that you can use as a 'fishing pole'.
When you have the game set up and ready to go, get the child to use the fishing pole to find a fish. The child will have to read the sound or the word after they have caught the fish, and they get to keep it if they read it correctly.
You might also like...